About/Testimonials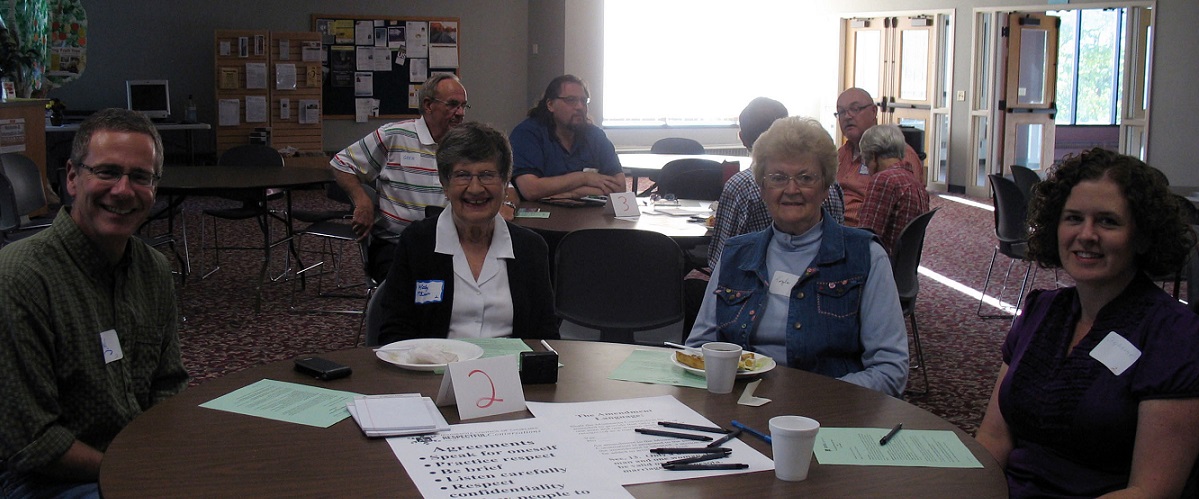 Respectful Conversations Project Testimonials
Our results speak for themselves: On average, 70% of participants report: "I have a stronger sense of empathy for those whose viewpoint is different from my own."
Over 95% agree that:
They felt listened to
We succeeded in providing a conversation different than a polarizing debate
The process would be useful in other settings.
From Participants
"I feel honored to witness people's hearts."
"I was opposed to small group discussions… Upon hearing your first question from my group's moderator, I was immediately impressed… With each succeeding question, I became more and more impressed by the insightful manner in which the questions drew out personal, in-depth statements of clarity from each participant… The overall effect was so beautiful that it was actually dramatic… Suiting me even better was the feeling of goodwill that enveloped the room, regardless of one's expressed opinions or even the outcome of the vote... Thank you very much for showing us a fine manner in which to handle a touchy topic."
From Hosts
I can honestly say if we hadn't used the 'Respectful Conversation' process ... we would have had a mess. Emotions were intense. But the process worked, conversation was had, it was respectful and orderly. Whoever formulated the questions we used had done a brilliant job." 
~ Rev. Jeff Hansen, United Methodist Church, Alexandria
"We highly recommend community groups seek this conversations experience through MCC. It provides a safe, thoughtful arena to learn from each other on topics that typically could cause tension and debate." 
~ Toni Smith, Association of Minnesota Counties
"Thanks again for this wonderful process! It was truly a blessing to our congregation, and will hopefully shine a light on a better way of discussing challenging issues and addressing those issues not only as a congregation, but also in our individual lives."
~ Rev. Kent Claussen Gubrud, Christus Victor Lutheran Church, Apple Valley
Evidence of Lasting Change
We asked people months after their Respectful Conversation experience whether they had observed any lasting impact on their own behavior. Here's what they shared:
"Because of this experience, I am more aware of my own attitude when listening to others of different opinions."
"I have recalled the value of great - really open questions: getting rid of 'don't you think'  statements; trying to eliminate my explanations before expressing my question."
"I have tried to carefully listen to opposing viewpoints in some conversations since then, to listen for the experiences, and often fears, that feed into some viewpoints."
"The fact that we are having open conversations with each other is a triumph."
"I became more aware of the importance of letting a speaker complete his/her comments before interjecting a comment or question."
"In the weeks following the event I found myself using better listening skills."